In Memory
Willis "Gippy" Aulbert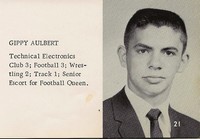 Funeral services will be 1 p.m. Saturday at St. Mary's Parish Hall in Bloomfield, N.M. for Willis "Gip" L. Aulbert III, a Vietnam veteran, who died Thursday, Feb. 25, from cancer at his Bloomfield home. He was 51.
Visitation will be held from 9 a.m. to 7 p.m. today at Brewer, Lee and Larkin Chapel in Farmington. Recitation of the rosary will follow.
The Rev. Dan Daley and Rev. Joe Bunce will officiate at services. Burial will be at the Greenmount Cemetery.
Mr. Aulbert was born Aug. 22, 1947, in Pampa, Texas. He married his wife, Roxann, in 1991 in Durango.
Mr. Aulbert served in the U.S. Army in Vietnam from 1970 to 1971 as the Chief Warrant Officer of the 187th AHC Crusaders, where he received a bronze star. He was also a member of the Vietnam Helicopter Pilots Association. He worked for 17 years with Williams Field Company, where he was superintendent since 1993.
He is survived by his wife, Roxann, of Bloomfield; stepsons, Jason Egger of Bayfield and Bradd Egger of Ignacio; a brother, Cary Aulbert of Bloomfield; a sister, Jan Fetter; and numerous nephews and nieces.