In Memory
Danny Bruner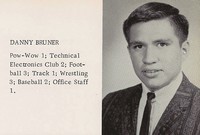 Funeral services for Elliot "Danny" Bruner have been scheduled for 2 pm Tuesday, March 2, 1999 at the First United Methodist Church in Broken Arrow. Rev Paul Kang will officiate. Burial will follow at Floral Haven Memorial Garden under the direction of Hayhurst Funeral Home.
Danny was born December 15, 1946 in Gridley, California the son of Elliott Bim and Leda v (Burgess) Bruner. He died at Broken Arrow Medical Center on Saturday, February 27, 1999. He was 52 years old.
Danny was a lifelong resident of Broken Arrow. He graduated in 1965 from BA High School where he was active in football, wrestling, and baseball. He attended Northeastern State University in Tahlequah for two years until being inducted into the United States Army where he served in Viet Nam as an infantryman. He received the Purple Heart for wounds received while there and received an honorable discharge.
He finished his education by receiving a business degree from Northeastern State in July of 1973. Danny owned and operated three Indian smokeshops in the Broken Arrow and Tulsa area. He was a member of the BA Chamber of Commerce and attended First United Methodist Church his entire life. The family requests memorials be sent to the Salvation Army Boys and Girls Club in Broken Arrow.
He is survived by,
Wife: Diana Bruner of Broken Arrow
Sons: Greg Bruner of Broken Arrow
Chebon Daniel Bruner of Broken Arrow
Daughter: Stephanee Bruner of Broken Arrow
Nikki Duncan of Broken Arrow
Granddaughter: Christina Cree of Broken Arrow
Parents: Bim and Leda V Bruner of Broken Arrow
Brother: Steve of Broken Arrow
Steve's notes:
After Danny left Broken Arrow and attended Northeastern he volunteered for the draft. (As you all know, Viet Nam was in high gear). He actually attended Officer Candidate School (OCS) in Ft. Benning, Georgia and did not graduate because of the following: (As he and mom told the story)
Even while in the BA schools he always could "test" well. I remember him and at least Bob Banfield used to get awards for being in the top 1% of those taking those standardized tests that we all had to take. He also tested well in the army and they were always "after him" to sign up for another year and attend OCS. He finally relented….
After going through all the training and doing quite well it was the day of his graduation and all were "ordered" not to use the telephones. Danny being Danny did what he was known to do and "disobeyed" and called mom.
(Mom could hear what was going on the other end of the phone, she told me) Well Danny got caught and after telling the "unsympathetic" officer that he was "only talking to his mom" he did not receive his commission as 2nd Lieutenant. However, he was sent to Viet Nam as most were during that time and did quite well since he had all the training of an officer.
As a matter of fact there is a book written by a Norman veteran and professor about Oklahoma 'boys' serving in Viet Nam that dedicates two chapters to Danny about his experiences while there. One statement that I will always remember from the book is the statement to the "cherries" was: "Stick close to the Indian." Which implied that he knew what he was doing and further than that some of the non-Indians "assumed" he had mystical powers so that you were safe if you were around him.
After getting back from Viet Nam Danny turned into a long-haired hippy and traveled the world. He actually would have confrontations with military people who had no idea he had served his country already. He also went to Europe and went to the 1972 Munich Olympics. Where once again, Danny was Danny and was befriended by a weight lifter who asked if he needed a place to stay. This obviously was just prior to the "massacre" that occurred later.
Danny then got his degree in business and later started what was a "novel" and new idea, and Indian smokeshop. He actually borrowed money from Grandma Ruby Haynie and his first smokeshop actually was run from the back of his car. He would buy all the tobacco he could afford, drive to Kansas and then back to Broken Arrow. Sell what he could and with that money make another trip to buy more tobacco. And he grew from there into a very successful family business.
There are many things that I obviously remember about Danny but his gregariousness and the feeling that "you wanted to be around" him are what stands out for me. He was just fun.
Just one little example of how people wanted to be around him.
Dad left to go to work at American Airlines one day and before he left he told us he wanted the house painted. Like a obedient child I got up and started scrapping the house. Before I knew it several of Danny's friends began showing up and the party was on… He reminded me of Huckleberry Finn. I would be on the ladder leaned up against the house, scrapping as hard as I could. He would be under the tree, in the shade, and his buddies would be on the scaffold scrapping and painting. How did he get away with it? That was just Danny!