In Memory
Jim Carley VIEW PROFILE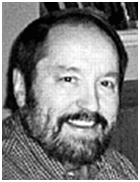 September 28, 19
47 - September 24, 2010
James (Jim) L. Carley, 62, passed away on Friday September 24, 2010. He was born on September 28 in Flushing, NY to Clyde and Margaret McAlister Carley. His family later moved to Broken Arrow, OK. Jim graduated from Broken Arrow High School in 1965.
Jim had a passionate love of music, both as an avid listener and as a performer. In Tulsa after high school, Jim played in some rock and roll bands. He was the lead singer in a band called Bo Velvet and the Desert Snakes. Jim also had an avid passion for sports and excelled as an athlete in his early life. He had an expansive career as a highly respected sportswriter. His interest in writing and his fascination with the world of journalism was passed down from his father, Clyde Carley, who had also excelled as an accomplished writer and journalist. Jim's initiation into the world of newspapers began at the Broken Arrow Ledger. He later went on to work for the Tulsa Tribune, Fort Worth Star Telegram, the Houston Post, Los Angeles Herald-Examiner and the National Sports Daily. In his later years he worked for the Katy Sun, and he also wrote for various magazines including The Sporting News and Street and Smith's. For years he also wrote stories for the Associated Press, MLB.com and Texans.com. In his career which spanned over four decades, Jim has interviewed and written stories covering just about every major sports figure and event. This includes numerous bowl games from the Orange, Cotton, Sugar, Sun, Liberty and Fiesta Bowls, as well as two Super Bowls, two USFL championships, one World Series, three NBA finals, several College World Series, countless major league baseball games and hundreds of NFL and NBA games.
With the demise of many newspapers in recent years, Jim transitioned into television news writing four years ago. At the time of his passing, he was working as an associate producer for the local Fox 26 Sports station in Houston and was still doing some occasional freelance sports writing on the side.

Jim is preceded in death by his parents, Clyde and Margaret Carley; and his sisters Ann and Mia. He is survived by his 2 children, Caycee of Houston, TX; Tommy and his wife, Jill of Cypress, TX. Jim was especially proud of his 2 grandchildren Jackson, 7 and Kathryn, 4 of Cypress, TX.
A visitation with the family will be held on Tuesday, September 28 from 5:30 p.m. to 7:00 p.m. A Memorial Service will be held at 7 p.m. following the visitation at Miller Funeral Services, 7723 Beechnut, Houston, TX, 77074. Memorials may be made to the American Diabetes Association or a charity of your choice.
Click here to see Jim's last Profile entry.