In Memory
Jimmie David Geren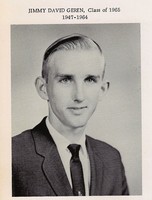 Parapharased from the original article in the July 30, 1964 Broken Arrow Ledger:
On Friday morning July 24, 1964 a car-train collision claimed the lives of Jimmy David Geren, 17, Beverly Ann Geren, 16 and Kenneth Harper, 15. Also included in the accident were David and Beverly Geren's two neices Kim Hayes, 6 and her sister Laurie, 8 who were in the backseat. Mr. and Mrs Johnny Hayes are the parents of Kim and Laurie and Mrs. Hayes is a sister of Beverly and Jimmy Geren. The mishap occurred when Geren drove a southbound 1959 model car northbound into the first of two engines pulling an eastbound 30-car Katy freight train on Lynn Lane Road between 81st and 91st Streets. Miss Geren and Harper were killed almost instantly. The Geren boy died during surgery the same afternoon. The two sisters were the only survivors of the crash Laurie suffered multiple fractures and Kim Underwent surgery for internal injuries.
The train's engineer, Herb S. Whitlock, Muskogee, said the train was traveling 18 to 20 miles per hour. He said he sounded the train's whistle and bell as he neared the crossing where a high bank and corn field obstructed the view. The only warning of the rail crossing was a "X" type railroad warning on the south side of the tracks.
Mr. and Mrs. Omer Geren of Rt 1 were the parents of the Geren Children. Both were born and raised here. Beverly Ann would have been a junior and Jimmy a senion at the Broken Arrow High School this September. In Addition to their parents, they are survived by a brother, Jerry, stationed at McConnell Air Force Base, Wichita and another sister, Mrs. Kenneth (Brenda) Hogan of Broken Arrow.
Harper was the only child of Mr. and Mrs. Hubert Harper of Rt. 3. He was born in Broken Arrow and would have been a junion this September.
Funeral services were Monday afternoon in the Assembly of God Church. Interment was at Floral Haven Memorial Gardens. Leonard Funeral Home was in charge.